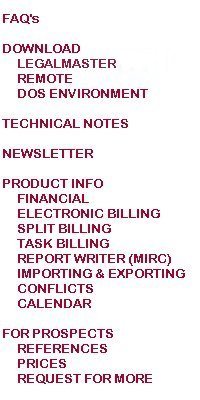 Legalmaster's core application is Time and Billing. Consequently, it contains the ability to capture and store both those entries that reflect your billable (and non-billable) professional time and those entries that reflect your advanced costs and reimbursable expenses. Since Legalmaster was designed for law firms, it contains features not found in generic time and billing systems, such as
the ability to support direct connections between accounts payable and billing (to make it easy to bill clients for out-of-pocket expenses),
integrated conflict of interest,
allocation of receipts by type of activity, originating attorney, responsible attorney or even timekeeper.
Legalmaster may capture time from three sources.
Our own data entry screens which may be accessed by any user on a network (barring security restrictions).
Our Remote Data Entry Module, which is primarily intended for off-site batch entry.
A number of third party time capturing products, such as DTE, Carpe Diem, Amicus, Atilla and Time Piece.
Legalmaster offers thousands of billing formats
Legalmaster is capable of printing billing statements in a few thousand formats. You may specify a different format for each of your clients; you may even vary the format for different matters belonging to the same client. Once you have told Legalmaster how you want to print a particular bill, it remembers forever.
In the section of the bill that shows the detail that supports the charges for your time, you may show any combination of the date of each charge, the timekeeper who performed the service, the description of the service, itself (limited to about 20,000 characters per item), the time spent on the entry, the billing rate and the resultant charge.
You may show or suppress your write-downs (discounts) in summary or line by line.
Your time entries may be sorted in any of five orders, including date, timekeeper and type of service.
If certain services are performed for a fixed fee, you may itemize or consolidate the entries that make it up, even suppressing the hours on those transactions (thus allowing you to keep track of the actual time spent) while showing hours on other entries.
You may display the life-of-matter billings and/or receipts at the bottom of the bill for those clients of yours that demand that information.
You may omit or show the balance forward from the previous bill. If you choose to show it, you may print it as a total or itemize each outstanding invoice.
The wording of every caption, every column header, every word, in fact, is under your control. You may even print different captions on the bills for different matters or clients, even in different languages!
Date sensitivity
Since Legalmaster is date sensitive throughout, you may enter data for a new billing period even before you have billed the previous period.

All detailed activity may be retained for as long as you wish. As a result, old invoices may be printed anytime and management reports may reflect activity between any two dates. This is best illustrated by Legalmaster's report writer.

Legalmaster stores five dates for every time entry.

the date that the work was performed
the date that the transaction was keyed in to the software
the date that it was billed
the end date of the billing period with which it was billed
the date(s) that it was paid for
Reports
While the majority of our clients tell us that they produce most of their management reports with Legalmaster's report writer, we offer many other reporting options, as well. Here's a list of some of them. Each one lets you specify, among other things, the range of dates in which you are interested.
Pre-bills - a case-by-case report detailing all of the information necessary for whoever makes billing decisions
Pre-bill case totals - a summary of the information that appears on pre-bills without all of the individual financial transactions
Missing time - a simple grid that tells you who has and who hasn't submitted their time
A/R balancing - a report that simplifies the balancing of your receivables from month to month, quarter to quarter, year to year, etc.
A/R aging - available by client, matter or invoice
Aged WIP by case - work-in-process (unbilled fees and costs) for each matter
Aged WIP by timekeeper - work-in-process (unbilled fees) for each attorney, paralegal and anyone else who bills their time
WIP and A/R summary - a balancing report for both accounts receivable and unbilled activity
A/R ledger card - available by client or matter, a chronological listing of billings, receipts, account adjustments and transfers from retainer with a running accounts receivable balance
Trust activity - a chronological listing of trust credits and debits along with a running trust balance, by client or matter
Retainer activity - a chronological listing of retainer credits, transfers and other related transactions along with a running retainer balance, by client or by matter
Fee analysis - a case by case summary of who worked on each matter, time value, write-ups, write-downs, effective rate, etc.
Mailing lists or labels
Connections with other products
As if all this weren't enough, data may be imported from and exported to dozens of other software packages.