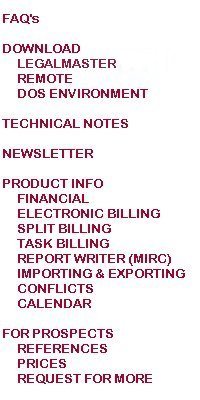 Since Legalmaster offers so many reports that show accounts receivable information, which one should I use?
The answer depends, of course, on your particular requirements.
If all you want is the A/R balance of a single client or matter and you're willing to look at it on the screen, your best bet is the Account Status screen. From that screen you can see A/R four different ways. You'll get the same total A/R on any of these screens.

The Ledger Card shows you in chronological order every billing, payment, adjustment and retainer transfer along with a running A/R balance between whatever two dates you ask for. It looks just like a manual ledger card. Highlight any line on the screen and hit F5 to see a history of a particular invoice.
The Open Item List just shows you which invoices are still outstanding. You can get a history of any of those invoices by highlighting it and hitting the F5 key.
The A/R Summary is useful if you want to see life-of-matter (or client) totals of billing, payments, etc. A/R here is broken down by category (fees, direct costs, indirect costs, etc.) F5 displays an aging window.
Delinquent Account Tracking shows you an A/R summary at the client level along with your collection notes.

MIRC for Cases has the great advantage of letting you design your own report layout. Its balances are up to the minute. If you want a printed report that shows your A/R as of today, this is the best option. Your aging columns may be based upon actual dates of outstanding receivables or number of days old. The number of days option is generally preferable, because you won't have to deal with changing dates when you next run the report.

This sample report shows what such a MIRC report might look like. Although you may list every case or client, in the interest of saving space we chose a summarized report, this one by Responsible Attorney. Notice that the column headers are not dates, they are instead just numbers of days. The right-most column is from 0 to 35,000 days; that's almost 100 years. Notice also that we didn't break out fees from costs; we could have.





     A/R by RA1                                    LEGALMASTER MIRC For Cases                          10/14/98  Page 1
     Summarized by Responsible Atty



                        Sort Fields:
                          Case Responsible Atty 1 Code      (Subtotals Only)



                                                       0-30        31-60        61-90       91-120    121-35000      0-35000
     Ra1  Case Responsible Attorney 1 Name      Total A/R $  Total A/R $  Total A/R $  Total A/R $  Total A/R $  Total A/R $



     LXM  Lawrence X. Miller                        2816.85      2423.33          .00       619.65      1806.23      7666.06
     LXS  Lois X. Smith                             3790.50       515.58       732.85       860.59      1582.14      7481.66
     LXT  Lester X. Tristan                        15013.38     10199.64      3759.97      5391.57      4823.68     39188.24
     M    Manfred                                  23655.03     11168.19          .00      3407.46     10365.25     48595.93
     PHR  Phillip H. Rubin                         18180.05      4306.03      4784.81        10.99      3731.08     31012.96
                                               ------------ ------------ ------------ ------------ ------------ ------------
                                                   63455.81     28612.77      9277.63     10290.26     22308.38    133944.85
                                               ============ ============ ============ ============ ============ ============
     6 records printed.


All of Legalmaster's "canned" accounts receivable reports, i.e., all but MIRC, allow you to get your A/R figures as of any date in the past. The Aged Accounts Receivable Report even recreates the aging as of that date. All activity that is in the system that occurred after that date is ignored. The report even knows that a payment that occurred prior to your cut-off date which was subsequently applied to an invoice dated after the cut-off date was, at the time of its entry, unallocated.

This is the only report that lets you itemize each outstanding invoice, though you needn't do so if you don't want to see that much detail. You may see totals by matter, totals by client or both.

The A/R Ledger Card lets you see in chronological order every financial transaction that affects A/R between whatever two dates you specify at the time of run. As is true with the Aged A/R Report, you may indicate any ending date that you want, and all balances are shown as of that date.

The A/R Balancing Report can be thought of as an abbreviated Ledger Card Report. Instead of listing every billing, payment etc. between your two dates, it shows a single line for each transaction type, i.e., one line for all payments, one line for all billings, etc. It's useful for the firm that wants, for example, to see beginning of month balance, end of month balance and just a case-by-case summary of what happened in between.