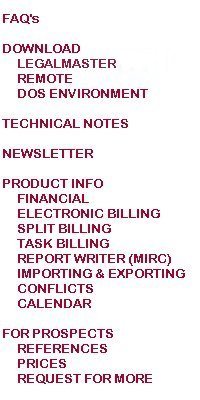 Btrieve/Pervasive Versions - Technical Notes
All versions of Legalmaster released since 1995 employ file management software which once was called Btrieve but has been renamed Pervasive.SQL. There are dozens of versions of this product. We shall try in a few paragraphs to provide you with sufficient information to assist you in selecting the one most appropriate to your needs.
Vintage
The simplest way to date Btrieve is by its version number. The oldest Btrieve with which Legalmaster can run is version 6.15.

In the late 1990's Btrieve's manufacturer changed its name from Btrieve Technologies to Pervasive Software, they renamed their product from Btreive to Pervasive. So, version 7 was titled Pervasive.SQL 7 rather than Btrieve 7.
32 or 64 bit
All versions of Microsoft's Windows from Windows 95 through Windows XP were 32 bit. Beginning with the ill fated Windows Vista and continuing with Windows 7, Windows 8, and Windows 10, Microsoft has offered their operating system as either 32 bit or 64 bit. This distinction is important. While Legalmaster can run in either a 32 bit or a 64 bit environment, older versions of Btrieve are not so adaptable. Our experience has been that you cannot install Btrieve 6.15 on a 64 bit computer; at least one IT guy disagrees with us on this. Regardless, Btrieve 6.15 was released in the 1990's, so you may want to consider a newer version of Pervasive. If you want to stay with the old Btrieve 6.15, we recommend you purchase only 32 bit workstations.

If, on the other hand, you choose to buy 64 bit computers, you must upgrade to a newer version of Pervasive. If even one computer on your network from which you plan to run Legalmaster is 64 bit, then you must use Pervasive on all of your workstations. All workstations accessing the same data must use the same version of Pervasive.

Beginning with Pervasive 11, Pervasive offered the client as either 32 bit or 64 bit. When you install it, you should select 32 bit, even if you're installing it on a 64 bit computer.
Number of Concurrent Users
Let's first draw a distinction between a stand-alone computer and a network. Although this distinction may be self evident, it calls for explicit delineation. A stand-alone computer is just that; it is not in any way connected to another computer, even for the purpose of sharing a printer. A network system, on the other hand, allows multiple people simultaneous access to the same data, at least potentially.

Now let's describe the two basic types of networks, server networks and peer-to-peer networks. A server network has its data stored on a computer that is not used as a work-station, but which is accessable by all other computers in the network. A peer-to-peer network, on the other hand, has its data distributed among all of the computers in the network and anyone connected may access data from any of the computers.

Now, where does Btrieve/Pervassive fit into this scheme?

Pervasive offers three basic setups.
Their work-station engine is designed to run on a stand-alone computer. The work-station version of Btrieve 6.15 can read data stored on a network. The work-station versions of every Pervasive release beginning with 7 will not support a network. So, if you want to run one of these newer versions of Pervasive and your data are stored on a network, you must get one of the two versions described below.

Their client/server version is designed to run only on server networks. It's priced based upon the number if simultaneous users that you require and is sold in units of 6 or 10. It's also sold specific to the brand of network on which it is to run; that is, there's one version for Novell's Netware and another version for Microsoft's server software. If you upgrade from a Microsoft network to Novell, and you had the client/server version of Btrieve or Pervasive, you'll have to license a new copy of the Pervasive software.

They offer a third setup in between the above two. They call it a work-group. Designed for peer-to-peer or small server networks, it supports a limited number concurrent users. The limit has changed from Pervasive release to Pervasive release over the years, but it's generally been around five or six. It runs on all network types and, consequently, does not have to be replaced should you change network brands.
While some work-station versions can run on networks, the versions designed for networks have a number of advantages - they're faster, use fewer network resources and expose your data to less traffic, thereby reducing the likelihood of data corruption.
---