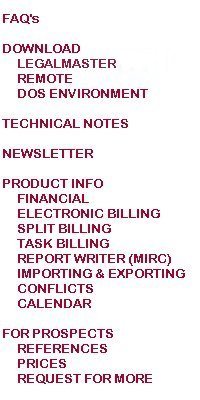 How do I keep track of non-billable activity, such as pro-bono and firm administrative time?
You have quite a few options here, but this is the procedure that we recommend.
Since you will be entering your non-billable time in the same manner that you use to enter billable time, create a client reserved for this purpose. Typically the client is the firm, itself.


Create a series of matters under that client. Most firms create one matter for each type of non-billable activity for which you wish to keep track, such as PROBONO, ADMIN, SICK etc.

Assign the matter one of your billing rate codes. Legalmaster will let you produce reports that tell you the value of your non-billable time. This won't work if you enter your non-billable time at a zero rate. We suggest that you use your most common rate. Don't worry; this will not create a receivable for the matter.

Set the Billing Status #2 for each of these cases to N. This establishes the matter as non-billable and prevents it from acquiring a receivable.

From this point on, everything is automatic. When you enter time, Legalmaster will do two things for you.

Although each entry will be given an actual value, its billable value will be written down to zero.

Each entry will be assigned an N as non-billable.

That's really all there is to it. MIRC for Transactions reports consider all transactions assigned that N as non-billable. You may reflect on those reports either non-billable hours, non-billable dollars or both!