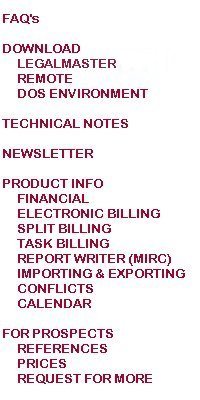 How do I determine unbilled amounts at some date in the past?
This simple solution was suggested by Sue Hoffman of Hoffman, Sabban and Watenmaker in Los Angeles. Use MIRC for Transactions. You may do this for fees, costs, or both on one report.
Include two range fields.
Range on Transaction date to Include 1/1/81 through your ending date.


Range on Billing date to Exclude the same date range.
Unless you want to see every transaction, we suggest you make the two dates "range fields only" and you "subtotal only" by client, matter, attorney, or something else that's meaningful to you.
What you'll get are transactions that took place before your ending date excluding those that were billed by that date.