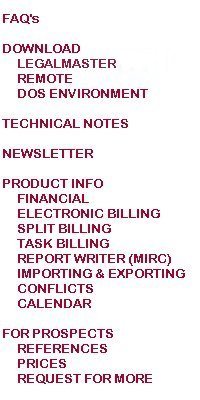 What's the best way to keep track of contingency matters? I'd like to know what we're really making per hour on them.
Put the matter on hold. This allows you to accumulate all of its fee and cost activity yet defer "billing" until you've entered all of its transactions. If your contingency agreement with your client includes costs, use status code I (hold fees and costs). If, on the other hand, the agreement covers just fees, use status code F (to hold fees only).


Enter your fee activity at the billing rate that you would charge if you could, perhaps your "normal" rate.

At the conclusion of the case, after all fees (and costs, if relevant) have been entered, go to Transactions/Fees/List Alter, enter the client and matter codes and click on Options/Automatic distribution of write-ups and write-downs. In the "new billable" box, enter the amount of the settlement that you can attribute to fees. Do not click the "adjust hours" box. Then click "redistribute." This process writes up or down (depending on whether or not the value of time work exceeded the your share of the settlement) every time entry assigned to the matter. It does this by changing each transaction's "billable" amount while leaving the "actual" value of each individual entry unchanged. As a result, you can determine, timekeeper by timekeeper, the profitability of the matter.

Take the case off of hold.

Run the billing generator. This will create a fee receivable precisely equal to your share.

Enter a payment to pay the receivable.