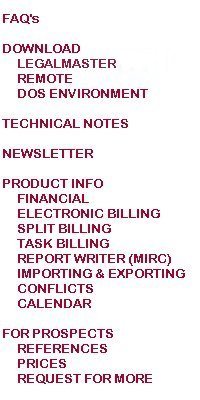 Pricing
Legalmaster's licensing fees depend on a variety of factors. We've tried to make it as clear as possible. Please contact us if we have not been entirely successful.
To determine the licensing fee for your firm, just perform the following steps.
Determine the fee for the single-station Standard Version appropriate to your firm. This figure is based solely upon your number of timekeepers.

A timekeeper is anyone for whom time is being kept track of for billing or reporting purposes. Do not confuse this term with a simultaneous user as referred to below under networking.

Add to that figure the fees for whatever optional modules you want. If you want to run Legalmaster on a stand-alone machine, i.e., not on a network, you're finished now. If you want to run Legalmaster on a network, continue on to step 3.

Take the total from steps 1 and 2 and multiply it by the network factor based upon the number of concurrent users that you require; 20% for 1, 25% for 2, 30% for three, 35% for 4, 40% for 5, etc. For example, if the stand-alone version were to cost you $2,000 and you want to have three users with simultaneous access to Legalmaster, just add another 30% of the $2,000, in this case, $600, for a total of $2,600.
The Standard Version (stand-alone fees)
The Standard Version consists of time and disbursement accounting for billing purposes, descriptive billing, accounts receivable, retainer trust accounting, management reporting, fee splitting, Management Information Report Control report writers, historical data retention (indefinite storing and reporting of detailed activity).
| | |
| --- | --- |
| for up to 2 timekeepers | $ 695.00 |
| for up to 4 timekeepers | $ 940.00 |
| for up to 8 timekeepers | $ 1,725.00 |
| for up to 12 timekeepers | $ 2,650.00 |
| for unlimited timekeepers | $ 3,650.00 |
Optional Modules (for stand-alone version - see next section for networking add-on amounts)
| | | |
| --- | --- | --- |
| | Captures fee and cost entries from dozens of products, such as cost recovery from photocopiers and phone systems, time tracking systems, accounts payable systems | $ 575.00 |
| Remote Data Entry | Off-line batch entry of fees and/or costs. This one-time fee lets you put the software on as many stand-alone machines that you want. Remote is also available in a network version ($80 per additional workstation); this would let your timekeepers enter their time on a front office network while the "host" Legalmaster runs on the same network, another network or a stand-alone system. | $ 880.00 |
| | Checks through its own database as well as your billing data. You might wish to contact your malpractice carrier to see how much having (and using) this software will save you on your insurance premium. | $ 625.00 |
| | Among other things, allocation of receipts by timekeeper. This is for firms that want to know how much each attorney is generating in receipts based upon the work that each individual does regardless of how many attorneys work on the same matter. | $ 895.00 |
| General Ledger Interface | To LIBRA, Solomon, Platinum, etc | $ 280.00 |
| | Integrated with the billing database. | $ 350.00 |
| | Integrated with the billing, conflicts and calendaring features. Lets you specify the contents of your own data entry screens while displaying data from other parts of Legalmaster. | $ 1,850.00 |
| Security | Extremely subtle right limitations within Legalmaster, generally required by firms running Legalmaster on a network, who let all of the attorneys have access, and who want keep them from causing too much damage | $ 265.00 |
Networking
Compatible with Novell's Netware and Microsoft's NT and any other net BIOS network, our fee is a function of the number of stations accessing Legalmaster simultaneously and is a percentage addition to the single-station fees listed above - 20% for the first station, 5% for each additional station.
You may have a different number of concurrent users accessing the Remote Data Entry module and the Case Management module from the number you have accessing the rest of Legalmaster.
Support
6 months of software maintenance (unlimited free telephone support - your nickel, our time) is included with all versions with the exception of the versions written for a limited number of timekeepers; they get 3 months.
Training
We offer on-site training whenever you want it -- please give us a few weeks' notice to arrange a time that fits both our schedules. We also conduct webinar training classes many times per year. While our charge for the webinars is fairly nominal, our charge for on-site training depends upon how far we must travel.
These fees are for training at your office. They include all of our expenses.
location of on-site training

one day

2 consecutive days

within 100 miles of Oakland

$1,995.00

$3,450.00

elsewhere in Calif or Nevada

$2,450.00

$3,995.00

elsewhere in US

$3,050.00

$4,450.00

outside the US

negotiable
---